So today was my first day as a student at the University of Sussex, and I'm tempted to call it the beginning of an adventure. The thing is, it really isn't. Not that it isn't an adventure - it most certainly is - but it has begun a rather long time ago. During this first week, I'll try to give you glimpses of how the universe conspired to get me here. In this way, I can show you what kind of person I am, and of course I hope it'll give you a laugh or even inspire you in one way or another.
But first, about today! If you were on campus today, you'll have seen a lot of students coming in with all their luggage, moving into their rooms. Some of them will have come by car, many accompanied by their parents, sisters or boyfriends. You might have seen a few coming off the train or bus, dragging their suitcases across the pavement with searching eyes. And then, if you were here around 9:30am this morning, you may have seen a guy on a bicycle, pulling a trailer, and you might have wondered if he'd mistaken the campus for a campsite. Let's cut to the chase: You'd have been wrong.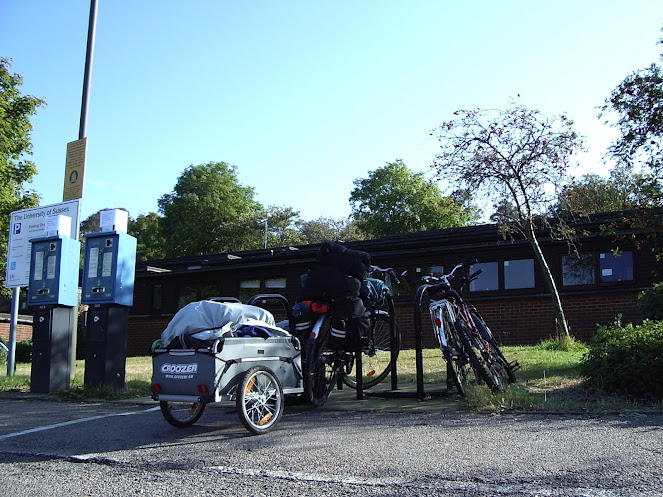 I'm probably the only person to move in with all of his luggage piled onto a bicycle (though I'd love to be proven wrong and meet others who did the same!). I'm quite used to getting strange looks traveling that way (more on that later), so the welcome I got on campus was quite a refreshing change. People were smiling, waving, greeting me all the way up to the East Slope parking lot. It almost felt like coming home, really - I can't remember ever having felt so welcome with so many complete strangers.
And it continued in much the same fashion. Getting my keys at the porter's lodge, carrying the fully loaded trailer up the steps with the help of an RA, meeting neighbours - everybody, without fail, was friendly, helpful and welcoming.
But enough gushing. I'm 26 years old, so I am considered a mature student - much to my amusement, I must say; to me, that sounds like I should be either bald or grey-haired, neither of which is entirely accurate. But as such, Freshers Week has a few extra events to keep me from getting bored - like today's mature students induction, which I dutifully attended, expecting to be the odd youngster amongst a crowd of silverbacks. In reality, the group of about sixty students was very diverse and yet again made me feel right at home.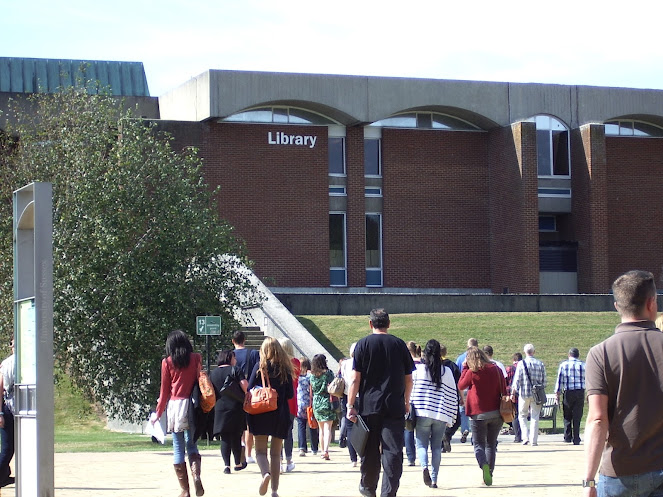 With a range of presentations, a Q&A with existing mature students, a quick tour of the library and a lot of time to mingle and talk, the event has given me a good overview of Sussex, especially the support facilities available to us, of the Students' Union and of the library. But more importantly for me, it was a great opportunity to meet people from a variety of backgrounds and programmes; people whose names I might not remember, but who I'm sure to be in touch with in the weeks and months ahead. I am very confident about studying here, yet it still is reassuring to hear from others' experiences - and to know I won't be alone among 18-year-olds.
Besides, I feel I'm two steps ahead of everybody else right now: I've learned things about Sussex that most will not yet know, and I've met people from related programmes. Not from my own (Neuroscience with Cognitive Science), I'm afraid, but a few other LifeSci students who have some of the same modules. Afraid of sitting in lectures lonely and forlorn? Heck no. I'm sure I'll be having a great time!
Back to those glimpses into my past. I hope you haven't noticed, but I'm not entirely a native English speaker. I'm Swiss, born and grown up near the country's largest city of Zürich. One of the reasons I can study here at Sussex without so much as taking a language exam is that, at age 9-10, I attended an international school in Zürich. Though I'd had no previous knowledge of English, I was young enough to learn very quickly - and very deeply. In just 1.5 years, I learned to speak and think in English in an almost native fashion. I have been using English as an active language ever since and feel just as confident with it as with my native Swiss German. Even High German, which is the language of most writing, teaching, and media in the germanic part of Switzerland, used to feel more foreign to me than English.
With all these loose threads hanging around, I will leave you - until next time,
Felix
This post has been read 521 times.