I live in East Slope, which is, as every Sussex student knows, the on-campus residence with a legendary reputation for being a party hotspot. It's a reputation well earned – and East Slope's current tenants are doing their best to keep up a good tradition – but it's also a misrepresentation that could easily deter peace-loving people like me who might, in actual fact, feel quite at home here. Let me explain.
When I applied for on-campus accommodation, I did so based only on the information presented on the University website. The picture I got there was, on the whole, quite accurate: Small rooms, facilities shared among several people, party hub. I wasn't thrilled at (1) and (2), except for their consequences on the rent. And, since I considered myself the antithesis of a party animal at the time, (3) was, if anything, a signal for me not to choose East Slope. However, being in a rather tight spot financially – I don't get any loans or other support for fees or rent – I decided to quell my qualms and choose cheap over comfortable.
Sure enough, I got what I wished for: East Slope, shared room, cheapest rent on campus. I was moderately pleased at my continuing spree of first choices and ever so slightly worried. I had opted for a "mature" and "quiet" flat, though, which served to calm my nerves considerably.
However, as German speakers might say: Firstly, things turn out to be different, and secondly, from how you thought they would. Fast-forward to Freshers Week, I found myself living with a bunch of fresh-out-of-school teenagers. Actually, let me rephrase that: Fast-forward to Freshers Week, I found myself living with some of the most wonderful people I've met. Certainly, my flatmates aren't over 21, but they're friendly, respectful and polite. Certainly, we have one of East Slope's most powerful sound systems to which parties flock like flies to honey, but quiet times are respected even on weekends. Certainly, our tiny kitchen and dining area look like battlefields at times, but that's not only to be expected, it's also a transient state; everybody contributes to keeping things clean and tidy.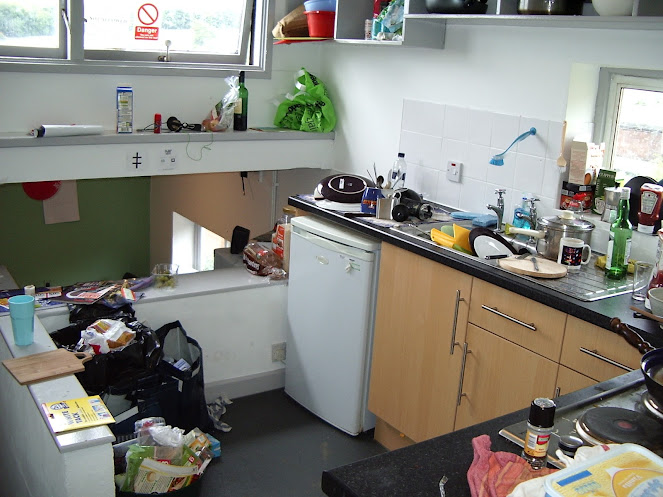 In fact, speaking of the kitchen, I'm delighted at the amount of sharing going on: We share pots and pans, we share cutlery and crockery, we cook together and eat together. Until two days ago, we were seven students in the flat, sharing a kitchen designed for three, at most, a dining area with, originally, four chairs, one bathroom (shower, no tub) and one extra toilet. Now, we're down to six, as our flatmate from Hong Kong has moved out; despite our best efforts, she hardly participated in our lovely little community, so nothing has really changed for us. And though we live in such for modern western conditions unusally close quarters, despite differences in age, in backgrounds, in interests, in musical tastes and in sleep schedules, I have yet to see even hints of conflict.
Whatever evil I may have expected before moving in has not come to pass. But then, how could I have known? In Switzerland, universities don't have their own residences; students usually live in privately organised flat shares or, as I did, commute from home. The experience of living in halls was one of the things that drew me towards the UK. I knew I could easily cope with little privacy, as I had considerably less of that during my service in the Swiss Army than I have here. And I knew that by spreading out my contacts, by making friends outside of my immediate surroundings, I could minimise my dependence on harmony within the flat. I now know I needn't have worried, of course, although you certainly won't hear me moaning about the many friends I've made anyway!
With that, I shall leave you for a while – quite literally, in fact, for those among you who live nearby: If all goes well, my next entry will come to you from a distant land. But more about that when its time has come!
Until then,
Felix
This post has been read 2223 times.