The last two weeks, I've been staying in Kyoto, Japan. And although the 2012 medicine/physiology nobel prize went to Kyoto University professor Shinya Yamanaka, this was obviously not a study trip for me. Instead, what got me to the Land of the Rising Sun started some ten years ago, when the Gewandhauschor Osaka partnered with the Camerata Vocale Berlin – a musical collaboration among amateur choirs on opposite sides of the planet. It started one-and-a-half years ago, when I joined the Camerata Vocale to reinforce their sparse tenor section. And it started a few weeks before Christmas last year, when the president and conductor of the choir convinced me to sign up for the Japan leg of the third series of the two choirs' joint concerts. And thus, on 1 October, I departed for the Far East, travelling outside of Europe for the first time in my life – a Swiss tenor of a German choir, leaving Britain (via Paris-CDG, France) to perform in Japan.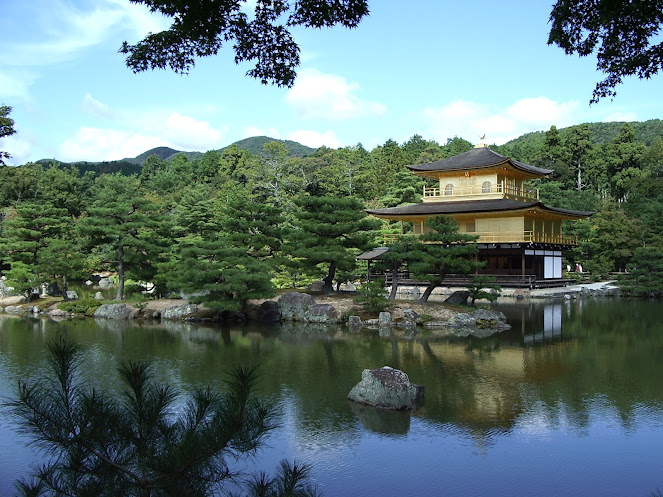 Of course, missing two weeks of lectures and seminars raised some consideration and anxiety. At the time of my signing up to the trip, I hadn't applied to study yet, though I was certain I would. Even so, trading two weeks of study time for a stay in a fascinating country and culture and a unique musical experience seemed like a fair deal, certainly considering my previous study experience. Besides, I could always take some material with me and study in my spare time.
To be fair, I could've done more of that. But then, I was in Japan, and I had ten days, and I wasn't about to spend much of that time dwelling on distant matters – after all, zen buddhism is big over there, and one of its central teachings is to live in the present and savour the moment. Still, I did do some studying and feel reasonably well-prepared to tackle week 5 tomorrow.
But enough of study matters. Let me give you a few peeks at the trip, starting with...
... the rehearsal gauntlet: Bringing two choirs together for a concert is no small task. Of course, there had been ample communication among the two conductors on musical matters; still, there had to be some rehearsals before the concert to iron out differences in tempo, dynamics and pronounciation. And so, after arriving on Tuesday morning, we rehearsed on Wednesday, Thursday and Saturday for the concert on Sunday. Now, the reason I'm calling it a gauntlet isn't the frequency, though for amateur choirs, it certainly is rather unusual. No, what made it a gauntlet was the trip from our hotel in Kyoto to the rehearsal locations in Osaka. For financial reasons, we made the trip by public transport, using subway and local railway lines. Imagine endless mazes of similarly-looking tunnels stuffed with shops and plastered with symbols you can't read, confusing layouts, gates that work in a variety of different ways, a good dozen seemingly independent railway lines, and a group of Europeans trying to make sense of it all. You've just pictured the Camerata Vocale navigating Umeda station in Osaka. Luckily, we did have a guide with us, so we did arrive at our destination on time; still, it was a confusing, if exciting, trip every time.
... the concert: We performed Bach's Magnificat and Mozart's Requiem, two beautiful works in their own right. The concert was held at the Hyogo Performing Arts Centre in Nishinomiya, a concert hall/opera house built in the aftermath of the 1995 Kobe earthquake on the site of a destroyed sports stadium. The magnificent hall – the acoustics are very satisfying indeed – offers roughly 2000 seats, most of which were occupied. I may be able to show you pictures, a recording, or even a movie soon; for now, you'll have to be content with my pre-concert shots and the assertion, shared by audience and musicians alike, that it was a beautiful concert.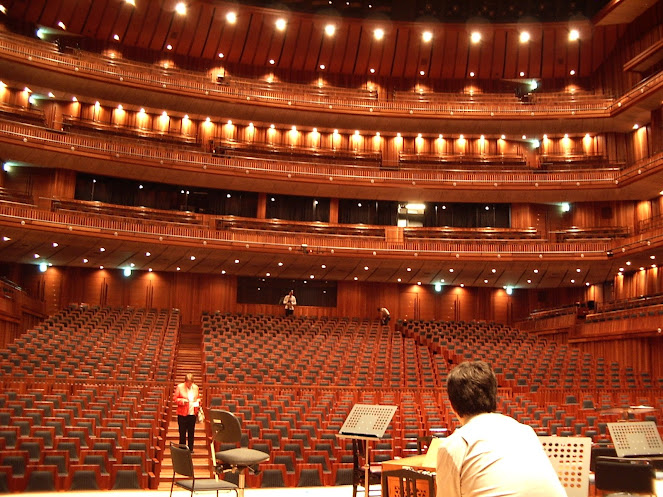 ... the sight-seeing: Of course, one doesn't fly to Japan only to sing. The country and culture has so much to offer, and I'm glad to say we got a good glimpse at some of the highlights. Kyoto itself is a fascinating city, offering the busy bustle of a modern Japanese metropolis alongside an old town with picturesque wooden two-story houses, exquisite shopping malls alongside an almost stereotypically Asian food market, a futuristic railway station alongside polished hand-pulled rickshaws, and more. I wandered the (incredibly clean) streets in awe several times, enjoying both the amazing attention to detail in architecture and front porch gardening and the chaotic tangle of wires and cables lining the sky wherever I looked.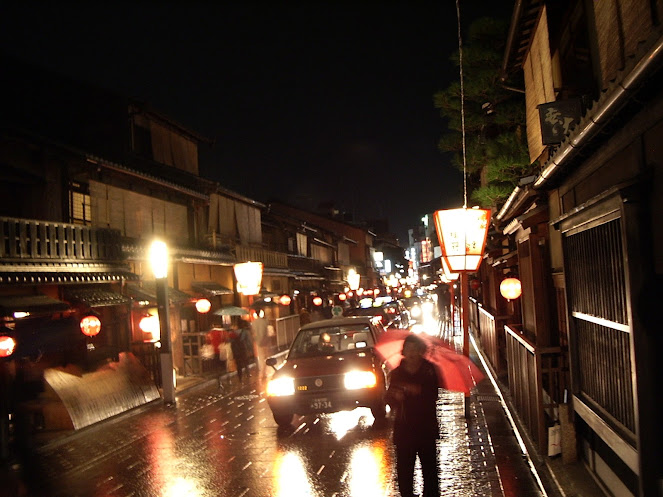 We had also arranged for tours with a chartered bus on three days, giving us access to a range of beautiful temples, shrines and zen gardens, to a medieval samurai castle, an old trade town and a stunning museum nestled in the mountains outside of Kyoto. Aside from hot springs and looking upon Fuji-san, I feel I've seen good representatives of most of the sights Japan has to offer.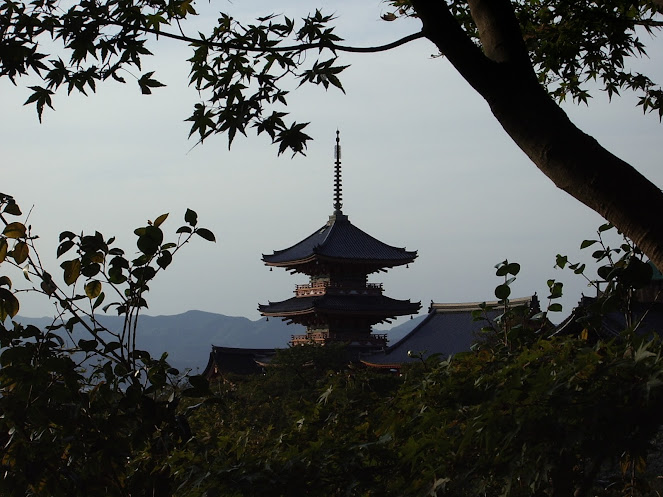 Indeed, I'd have much more to tell, and much also to show (I snapped almost 500 pictures with my crappy old cam – click here to get to the album with a selection of shots if you're so inclined), but for the sake of brevity, I'll stop here, afloat in good memories and looking forward to diving back into uni life.
Until next time,
Felix
This post has been read 831 times.